Monthly Market Update
What's going on in this market headed into the end of 2021?
Our Founder and my Managing Director at M&D Real Estate, Danny Perez, has put together an incredible snapshot for this month to show you what's going on in the always-moving Dallas Fort-Worth Market, including the residential market here locally, as well as a brief account of what is happening in the DFW and local commercial market right now.
It's nearing the end of the year! So it's a good time for a market update. I know you're probably curious what's going on right now as we near the end of 2021 and gear up for 2022!
RESIDENTIAL MARKET UPDATE
Is there a big correction coming?
First off, what we're seeing in the Residential Market is that we are kind of in a stall, maybe even an upward trend of inventory. Over the last year, we have just seen a huge inventory crunch, and prices appreciating at just crazy levels – 30, 40, 50 percent year over year. But now, we are beginning to see that moderate just a bit.
Sales are still down. People ask if the real estate market is up. Prices are up, but the real estate market is down because we don't have anything to sale! So we are down double digits into 20 percent year over year in the amount of business being transacted on the residential side.
Still a seller's market, but some things to watch out for!
Price Appreciation
On price appreciation, everyone feels good right now as a seller or owner of a property, because your homes are up by about 30 to 40 percent in the last couple of years. But we're beginning to see it moderate in some areas, but some areas we're not!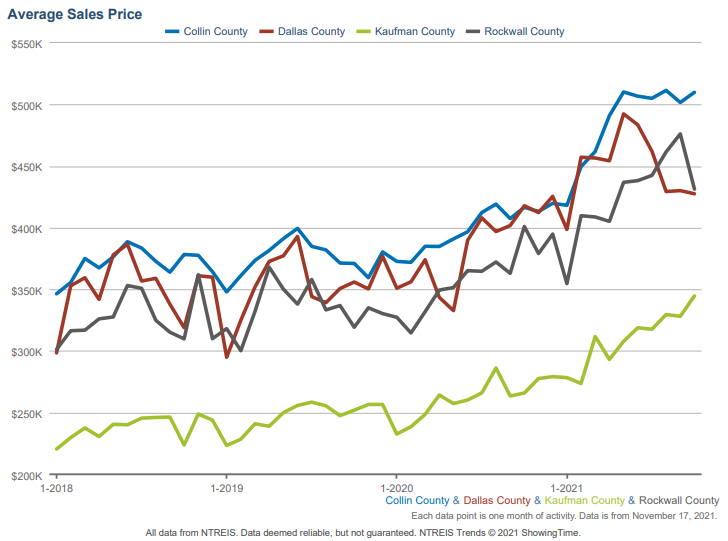 Average Sales Price
The average sales price for Rockwall County is up 7.5%, Kaufman County is up 30%. Look at the difference there. There is no blanket, "This is what's happening in the area," because it's different for every little market in the area. Dallas County is up 2.4%, which is more moderated and normal growth of price appreciation, maybe even a little below normal. Then Collin County is up 22%. It's really all over the place, which basically shows that we are beginning to stabilize in that the price appreciation is not as aggressive.
Last month, it might have been just the opposite numbers. It's good news really for everybody. We're probably at the peak of our price appreciation, and probably over the next few months we'll see some price reductions. We're beginning to see more of that. Some of that might be unrealistic sellers, because we may think our homes are worth more than they are when everyone starts talking about what their homes are selling for right now.
I would not say a correction is coming, but I think we are going to stabilize this market. We have too many people moving to this area, too many businesses and jobs coming to this area, to say "Hey, we're in for a big market correction." If you're waiting on that, I think you'll be waiting a long time. Because here in this area, it's fundamentally being driven by supply and demand. I believe we're going to see some stabilization in the prices over the next few months. We'll see some correction in some areas perhaps, but mostly moderate growth.
Months' Supply of Inventory
Looking at Months' Supply of Inventory, everything was record breaking low there for a while. Now we see Rockwall County at 1.4 months, which is still a really good sellers' market. So don't get discouraged Mr. and Mrs. Seller! Anything under 2 is going to be a good sellers' market, and anything under 3 is considered a sellers' market. Kaufman County is at 1.6, Dallas at 1.2, and Collin County at .8 Months Inventory. We are beginning to see the pendulum shift just a little with inventory coming up, relative to sales.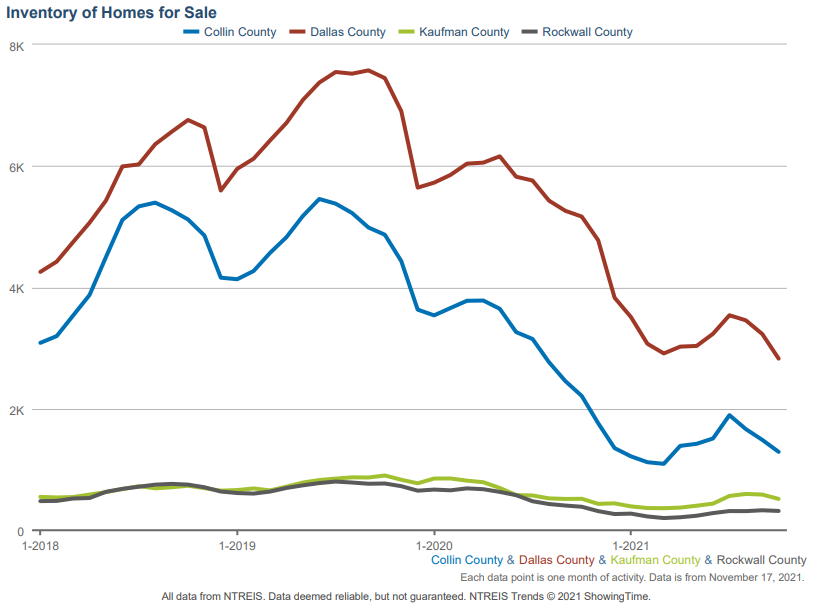 Inventory of Homes
Regarding the inventory of homes, that is the number of homes out there for sale, Rockwall County is down 17%, Kaufman is down 4%, Dallas is down 45% and Collin County is down 42%. Inventory crunch is still here, obviously. We have more than we did last year, but last year was down because of Covid. We can't build homes fast enough and get them to the market quickly enough right now.
Pending Sales
As far as the amount of real estate being transacted, Rockwall County is down 2.6% but Kaufman County is up 21%. Kaufman is building a lot more homes, especially in the Forney area. In Dallas County, it's down 3% and Collin is down 11% on pending sales. So that's an indicator going into November, this month, as these numbers are from October.
Closed Sales
Closed Sales in October were down 16% in Rockwall, up 1% in Kaufman, down 4% in Dallas and down 19% in Collin County. This shows the market is down because we aren't doing as much business.
Home prices are up significantly from a year earlier, though. DFW is up 17% year over year still. Austin is still the biggest gainer in the nation at 33.5%!
SUMMARY
So people ask me what is going to happen. The market is a due for a correction, but for a long time the DFW Metroplex had trouble growing because we couldn't bring business here. The reason business doesn't come is because of the talent pool. But now we have a talent pool, and we see big headquarters coming here daily. So that pendulum has shifted. Now we have more talent than a lot of areas in the country. So that's what is going to insulate us from any big correction that is coming. Interest rates, inflation may be the correction that's coming. Then when we see that correction, I think we will be insulated to a degree.
COMMERCIAL MARKET UPDATE:
Industrial Warehouse Space! Wow!
Last year, we got hammered in Commercial Real Estate. With COVID, the risk in the market, people tended to hold onto their cash and not put it out there. But this year, transactions are coming back and are on fire, because we have had a lot of influx and business to the area. There is not enough land to buy, office is coming back in the city and downtown areas and suburbs have been really great for office with people getting out of their homes.
However, one of the key things here to hit on today, is industrial warehouse space right now! That's where it is at right now and DFW is a mecca for this area. I have said it before, but I cannot say it enough. We currently have 100,000,000 square feet of industrial space coming to this area, that's what under construction. In 2015, we had 25 or 30 million square feet to give you some perspective on the growth of industrial space – the need for it and development of it. From industrial blue-collar jobs to professional jobs, all industries are coming our way and that's why we're seeing a boom. I was talking to a real estate attorney who said, "everyday I'm getting a contract. All the land is going under contract we could never sell before, we're seeing multiple offers." We're seeing what we saw in residential real estate a year ago, which is a fundamental demand. That's good for our economy in this area and good for those who have held on to land for years. They're beginning to reap the benefits of that.
One of the things holding up people putting their homes on the market is the fact that there is nowhere to go. At some point, people will adjust to these prices and new world.
WRAP UP:
That's what is going on in real estate right now, we're having a lot of fun, it's high intensity right now! If you need any services, from residential to commercial to property management, we're here to serve you and we will do it at a high level no matter what needs you have. That is our goal, that is what we are after is service, and we have the powerhouse team to provide that. Reach out to us if you need anything, and we look forward to hearing from you!