Your Monthly Market Update and Advice!
M&D Real Estate's Founder and Managing Director Danny Perez is excited to bring you what's going on in the always-moving Dallas Fort-Worth Market, including the residential market here locally and a touch on what's happening in the local and greater DFW area in our commercial markets right now.
COMMERCIAL MARKET UPDATE:
For our commercial update, we have some really exciting news! We've known the DFW market is growing, but now we can say step aside NYC, because Dallas Fort-Worth is now #1 for commercial property transactions! That is huge, when you compare NYC to DFW, now being able to say that we're number one. That just tells you the volume of people coming to the area. We have had 120,000 people come to this area the last year alone, and that's what triggered this economic stimulus. People brining their businesses here, moving here. You can see from all over the nation, they are coming here – getting away from tax burdens, restrictions, etc. There is also now a huge talent pool for the job market here as well. So, there's lots of things going on in the DFW Metroplex in Commercial.
To touch on the office sector, we had over 1 million square feet available from the pandemic. But the good news is that the Dallas office market is coming back. Sub-leasing is going through the roof. We are now back to 2019 levels, at half a million square feet available. This is a good sign for our economy altogether. Building owners are very happy to see this. At the same time, tenants are getting discounted rates on subleases because to get it leased, owners are discounting it. What we're seeing in the Dallas suburbs is very little office space available. This is because there was an exodus during Covid. Now to get more space and get out of the home offices, we are starting to seeing businesses looking for executive offices and such. So the suburbia has seen a big spike in office leasing here lately!
In general, for property transactions, any land we have is going quickly with multiple offers coming in. For instance, on all the properties we have available for Kaufman County, who we're representing in a Portfolio sale right now of 10 properties, we are seeing this. It is booming in Kaufman County. We are getting a taste of what they're talking about regarding land sales and commercial land and buildings and the demand for it here in the area -- and across the nation right now. There's just not much available out there!
Just to give you an example, I had a client invest in a building for his business about four years ago at half a million dollars. He just turned around and sold it for 1.65 million! That is in four years. So that is a phenomenal return on investment. Commercial is going good for those who got in early on properties. They are really beginning to see the benefits.
RESIDENTIAL MARKET UPDATE:
Now for the big update on the residential side, let me give you the rundown and summary first of what we are seeing overall. Still, low inventory, more buyers than sellers, and we are beginning to see a little bit of a pendulum shift of more inventory coming into the market. But it is still a horrendous seller's market out there right now. I cannot say that enough. Prices are way up. But the actual real estate transaction market is down, because there is nothing out there to buy or sell in residential real estate. So with that in mind, here's the update on the North Texas area.
NORTH TEXAS AREA RESIDENTIAL MARKET UPDATE:
For our home sales update in North Texas, we are down 5 percent this month from a year earlier in the number of single-family homes for sale. Median sales price, we are up 19 percent. So we are still seeing that crazy price appreciation. Also, we are seeing buyers start to get a little fatigued with this market. What happens with this, is first you start to see less offers… Still multiple offers, but a little less. Instead of 10 to 20 offers, there are 2, 3 or 4 offers sometimes on a home listed for sale. Then, we are seeing some properties sit for a little while. Why? Partly because buyers get tired of fighting for properties and paying these high market prices. It's called Buyers Fatigue. But homes are still generally selling quickly. Pending sales are down 7 percent from last year, and new listings for sale are down 29 percent right now from one year earlier throughout North Texas. That's basically what we have for the whole North Texas area, but if we go in and look at just our local counties – like Rockwall, where we're based out of, some of these numbers are even more off the charts.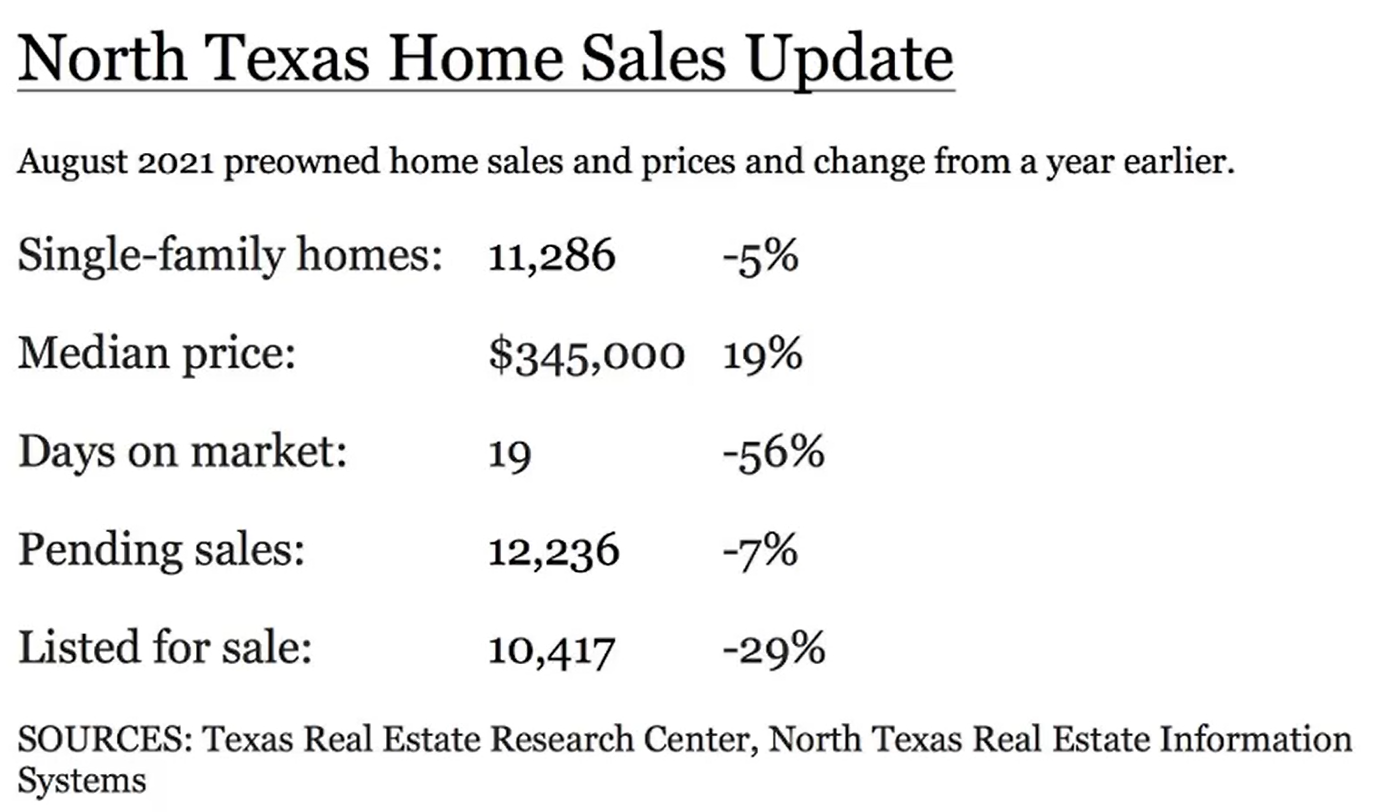 ROCKWALL – KAUFMAN – DALLAS – COLLIN COUNTY RESIDENTIAL MARKET UPDATE:
If you look at Rockwall County, sales price is up 22.9 percent, Kaufman County is up 15 percent, Dallas County is up 8.9 percent and Collin County is up 22.3 percent. We are almost becoming desensitized to these double-digit numbers.
But you must recall, double-digit price appreciation is something we have never experienced like this until this past year in the Dallas Metroplex. We've dipped into double digits before, but we are into the 20's and 30's in some cases, which is unseen and unheard of for the real estate market. Now, this is great for the sellers. Everyone is feeling warm and fuzzy about their sales price. Price per square foot is going through the roof.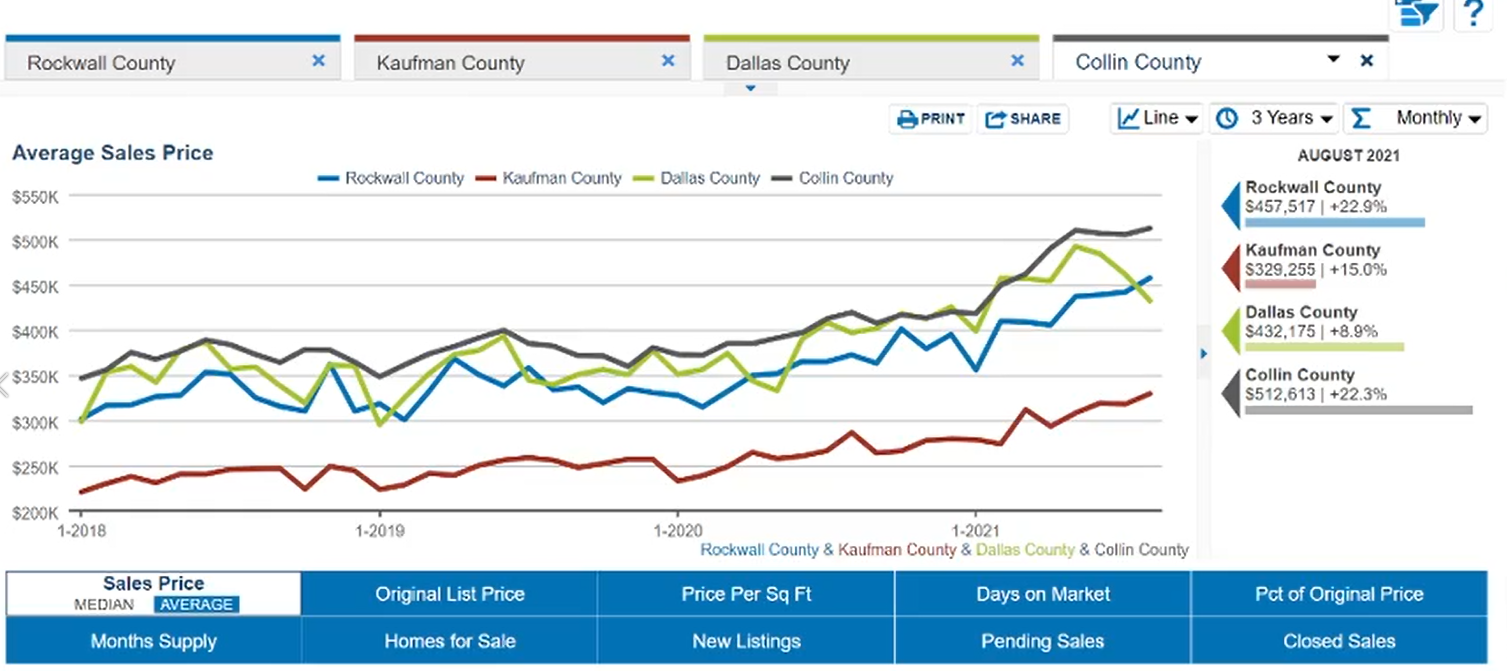 If you look at days on the market, it is significantly down from a normal year, such as August of 2019. Homes were sitting on the market an average of 45 days in August 2019 in Rockwall County, which is more normalized but still a good seller's market. We are down to 15 days on the market in Rockwall County, from 45 days on average in 2019. In Kaufman County, we are down to 23 days from 49 days on the market, Dallas County is down to 20 from 39 days, and Collin from 55 to 14 days on the market on average! This all comes out to about 50 to 60 percent less time now on the market than they were in the last normal market two years ago before Covid hit. These numbers are unbelievable if you really look at them.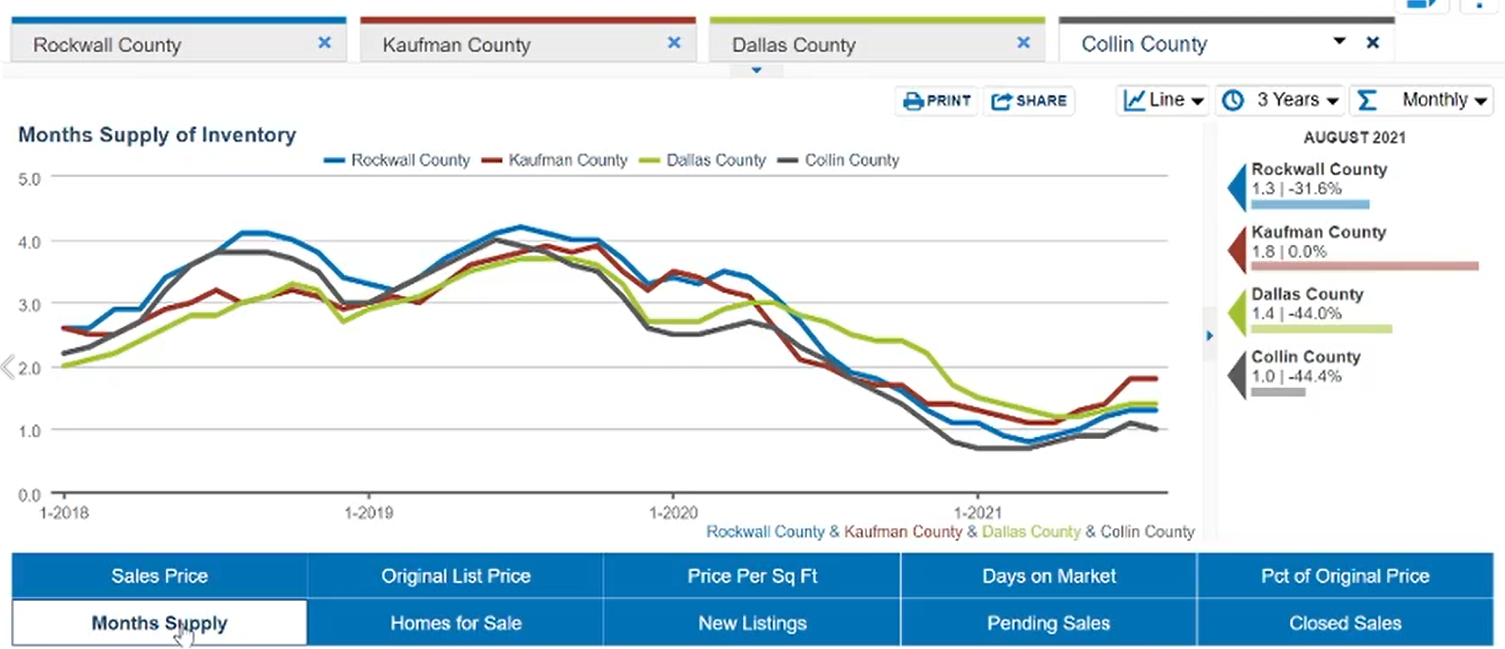 Looking at Inventory of Homes for Sale, the months-supply of inventory is way down in most places. In Kaufman County, it's interesting. They are building houses and growing significantly, so you see more inventory. But elsewhere, different story. The number of homes for sale in Rockwall County is down 29.7 percent, Dallas County is down 40.2 percent and Collin County is down 44.4 percent. Kaufman County, where they are building, is up 4.4 percent. We had a shortage last year in Rockwall County. But if you look at 2019, we are down basically 100 percent on the number of homes for sale – or even more than 100 percent in some areas. The shortage is just crazy right now. The fact we have more people coming into the metroplex, this also sets up that 20 to 30 percent home appreciation numbers we are seeing.
In the number of new listings on the market, we are basically flat in Rockwall County, down in Collin and Dallas, and slightly up again in Kaufman because of the number of new homes being built. We need a lot more to sale before we even begin to think about stabilizing this market.

One of the things holding up people putting their homes on the market is the fact that there is nowhere to go. At some point, people will adjust to these prices and new world.
MY ADVICE:
So how do you educate the seller right now? Well, expectations have been out of this world. They're wanting high prices. We all do, of course. But right now, you must be careful. If you get too aggressive, the home will just sit and that will hurt you when most homes are not sitting long. People start to wonder what's wrong with the property.
You can capitalize on this market by downsizing, though. If you're in a $750,000 dollar home and it has increased in value by 10 percent, let's just say, so that would be by $75,000 dollars. Then you go buy a $500,000 dollar home. When you downsize, you are paying more for this home and of course, are seeing the same market increases we all have seen, so you are paying $50,000 more. But you still net $25,000. No one wants to talk about this, but it's the reality right now. You may pay more on the purchase, but if you are downsizing, you can still realize a gain.
If you are looking to make a lateral move or upgrade, my advice is to hang tight a little longer on your home. Let the market balance a bit if you can. It may begin to balance more in the next 5 to 6 months. But honestly, we were not expecting to see what we are now! So it is very hard to tell. But I will say, we are beginning to see the pendulum shift with inventory increasing a little, buyers pulling a little out of the market… It's going to be slow. I don't think we will see some big correction around the corner. Because if you look at the markets and the fed and monetary policy and all the stimuluses going int o the market, it has inflated things. It's a bear they have been feeding. If that continues and they keep on feeding the bear, we will keep seeing this kind of market.
--
That's basically the market update right now. More of the same. Crazy seller's market. Not only for residential, but for the commercial world, too. Any land is being gobbled up, buildings where people can put their businesses, they do not last long! If you need any real estate services or advice, whether in residential, commercial or property management, we would love the opportunity to serve you at M&D Real Estate. Give us a call anytime. You can check us out and read more about the market and get tips and advice at www.mdregroup.com.